The data that the Inca depot stores, as with all database data, can be displayed in many ways. An Inca data consumer is anything that retrieves data from the depot and displays it (e.g. a JSP, SQL query, CGI, etc.).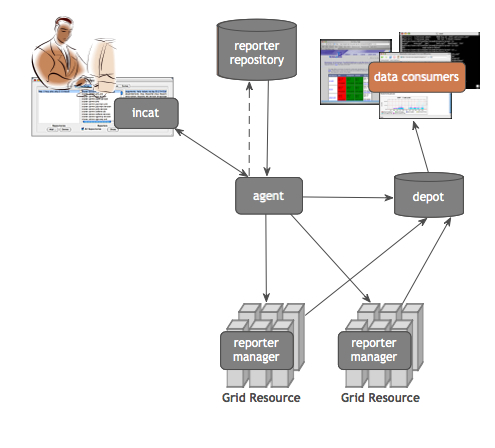 Data consumers can query the Inca depot to produce current and historical reports and graphs or customized status information. The Inca depot has Perl and Java client APIs for its pre-defined queries (see Section 8).
The default data consumer is a Web ARchive (WAR) file that contains a collection of JavaServer Pages (JSP) and their associated files. The WAR file is initially installed as $INCA_DIST/webapps/war/inca.war and is deployed with Jetty when the consumer is started (e.g. ./bin/inca start consumer). The default consumer creates a Jetty directory like $INCA_DIST/var/jetty*/webapp for each WAR file in $INCA_DIST/webapps/war - custom WAR files can be dropped into the $INCA_DIST/webapps/war directory and deployed by restarting the consumer. Currently Inca WAR files cannot be deployed outside of the Inca consumer server (e.g. in Apache Tomcat). The consumer will start on port 8080 unless the $INCA_DIST/etc/jetty.xml is edited as described in Section 6.7.