The data that the Inca depot stores can be displayed in many ways, such as current status reports, historical graphs, and customized status information. An Inca data consumer is anything that retrieves data from the depot and displays it (e.g. a JSP, SQL query, CGI, etc.). The Inca depot provides access to stored data via Perl and Java client APIs (see Section 8).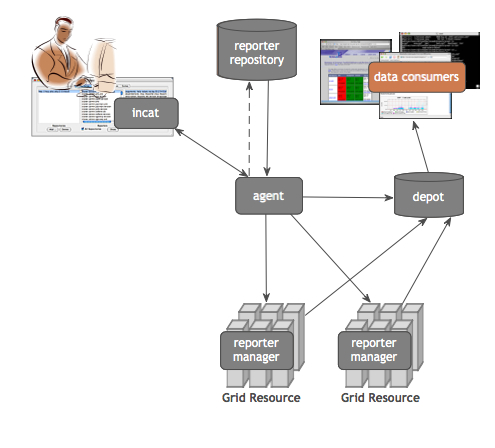 The data consumer packaged with Inca is a collection of JavaServer Pages (JSP) and associated files. The consumer is installed in $INCA_DIST/webapps/inca and is deployed with Jetty when the consumer is started (e.g., ./bin/inca start consumer). The consumer listens on ports 8080 (HTTP) and 8443 (HTTPS) unless $INCA_DIST/etc/jetty.xml is edited as described in Section 6.10.
The default consumer's JSPs query the depot for XML results and either apply XSL to them in order to display HTML status pages or parse out data and display it in graphs. The figure below shows the default menu header. Each menu item invokes a JSP as described in the sections below.